24
/
Mar
2012
In the beginning of January Kelsey and I ended up in Greymouth, a small city on the west coast of the South Island. Actually, we came here on purpose as we wanted to go Christchurch as that was the place where I wanted to look for (and ended up buying) a car. So, why go to the other side of the country for that?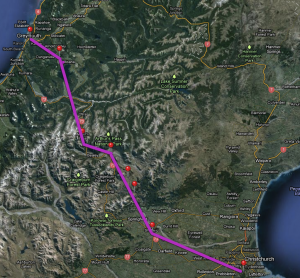 The answer is pretty simple actually. While New Zealand appears to have mostly given up on railroads, there are a couple of lines left, and the most famous and beautiful of these is the TranzAlpine express which is a over 4 hour journey from Greymouth to Christchurch that goes through the Southern Alps.
So, that was the plan. To go from Greymouth to Christchurch by way of one of the most beautiful train rides in the world. This train goes once a day, starting in Christchurch early in the morning and starting its return around a quarter to two in the afternoon. This meant we didn't have to hurry and first had a chance to enjoy our stay in Greymouth. Or well, enjoy it as far as possible because to be honest I found Greymouth a pretty boring place.
The trainride was really worth it though. The scenery was improved by good, but not great, weather leading to a lot of clouds interspersed with blue sky, and the train had a couple of viewing places so I didn't have to take the photo's through the glass in the car.
While I could do my best to describe how amazing the views were and how beautiful it all looked, I think the best way to show it is by actually showing it, so I would suggest just clicking on the photos below the post to get a good impression.